Bonvilston Football
The Beginnings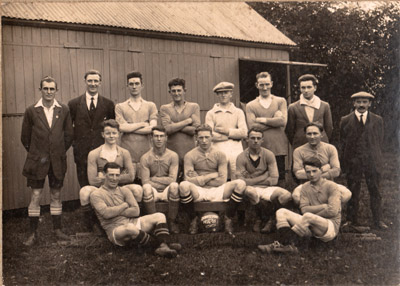 The origins of a team in Bonvilston began in 1910, when a group of people gathered on occasions to play football between themselves.
A team was formed and was sponsored by the Brains family (of brewing notoriety). Mr.J.H.Brain was at that time living in Bonvilston House and it is more than likely that his efforts provided the sponsorship.
The earliest record we have is a team photograph from 1924 taken in front of the 'Pavilion' just behind the Red lion. The 'Pavilion' dating from the early 1900s survived until just before the devlopment of the Village Farm estate in the late 1970s.
Names are Back row: Referee Mr Cattle, Mr Jones, Oliver Thomas, Glyn Watts, Val Harvey, Ivor James, Mr Denning. Middle row: Mr Williams, Alf Hannington, Ted Coles, Idris James, Charlie Deere. Front row: Will Ryan, Will Tanner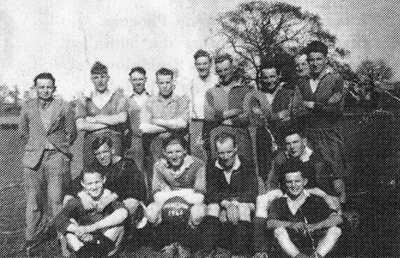 The records say that there was a second period of the Club in the 1930s when it had a team in the Vale of Glamorgan League. The 'real' Bonvilston Athletic Club was formed in 1942 and this is the Club villagers will remember. The team was also known as Bonvilston Home Guard in 1942-43 and played at the rear of the Red Lion public house in Bonvilston. The first goal posts at the pitch were cut from nearby Meardy Wood and the crossbar was a piece of string! Pictured are the first official team of 1946.
Back Row (Left to Right): Dewi Hopkins, Doug Lehman, Archie Jones, Billy Carter, Tom Ranger, Tom Harris, Horace Penwarne, Arthur Ranger, Arthur Pope. Front Row (Left to Right): Phil Watts, Charlie Evans, Howell Williams, George Price, Trevor Carey, Godfrey Douch.
The Pavilion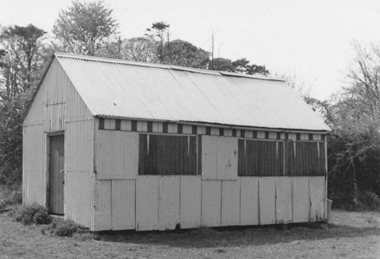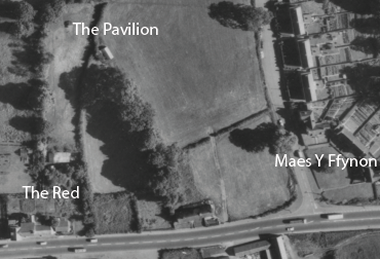 Originally, until the mid-seventies the football pitch was behind the Red Lion. A fellow called Llew Griffiths could be seen any Saturday morning, marking the pitch for the afternoon game. Then, after a few pints in 'the Red', he would amble over to the football 'pavilion' and light up the old boiler, ready for the afternoon match. The pitch was often covered with mole-hills and cow pats, and these often had to be stamped down before play could commence. The 'pavilion' a very flamboyant name for a wooden but that housed two football teams along with a tin bath, in which players were supposed to get washed! It was always a standing joke at Bonvilston. The last person in the bath often got out dirtier than he was than when he first went in! One player, Colin Hooper used to jump in the bath completely in his kit.