Bonvilston Cricket
The Beginnings
There's not a great deal of information of cricket played in Bonvilston. We know that the team played on the same pitch as that later used by the Bonilston Football team. That is the land to the rear of the Red Lion. One of the earliest pictures is from 1904 taken in front of the 'so-called' Pavilion. The captain J.H. Brain was a member of the Brains Brewery Family. Born in 1863 he would have been 41 when this photograph was taken. J.H. Brain played variously cricket for Clifton College, Oxford University and captained Glamorgan County for a number of years. He must have been the mainstay of the Bonvilston team and was probably instumental in bringing the sport to the village.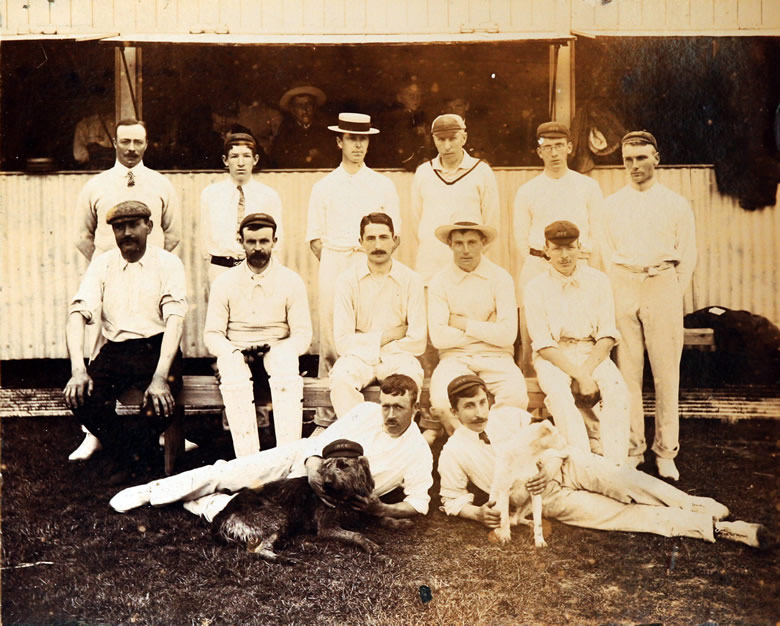 The names of those pictured are Standing - Left to Right: W.M.Cope (Great House), Bob Bassett, Rev.Richards (Llancarfan), J.H.Brain (Capt., Bonilston House), J.Stockwood (Cowbridge), B.Vaughn (Trehedyn). Seated: W.Watts (Sheepcourt), T.Melhuish (Sheepcourt Cottages), I.Holley (Organist), T. (Nipper) Jenkins (Cowbridge), W.John. Front: Tom Crabb (Cottrell), Harry Moore (School Master)
A link to more information on J.H.Brain's cricketing career can be found here.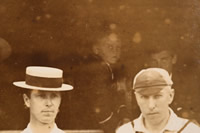 If you look carefully between the player in the boater and J.H.Brsin you'll see a young lad. This we are told is a young Charlie Deere who would become landlord of the Red Lion. He would have been only 6 years old when this photograph was taken. Tom Crabb was employed at Cottrell as a stud/groom. You'll find out a little more about the cricket team in 'The Recollections of Charles Deere' a book written about his time growing up in Bonvilston.
The only other photographic records of cricket connected with Bonvilston can be found below.
Pictured below is the cricket team that played at Kingsland, Peterston super Ely. The match was organised by Mr Charles Wareham who was known to live there around 1895. The date of the photgraph is unknown. The players came from the surrounding districts of Peterston, St Fagans and Bonvilston. Some of the names are known. Seated from Right to Left: Edwin Deere, Tom Crabb, W. Farmer. Middle row: Mr Kempthorne (Architect). Third row from the left: One of the Vaughns (Trehedyn).
Note the cats and dogs in the picture.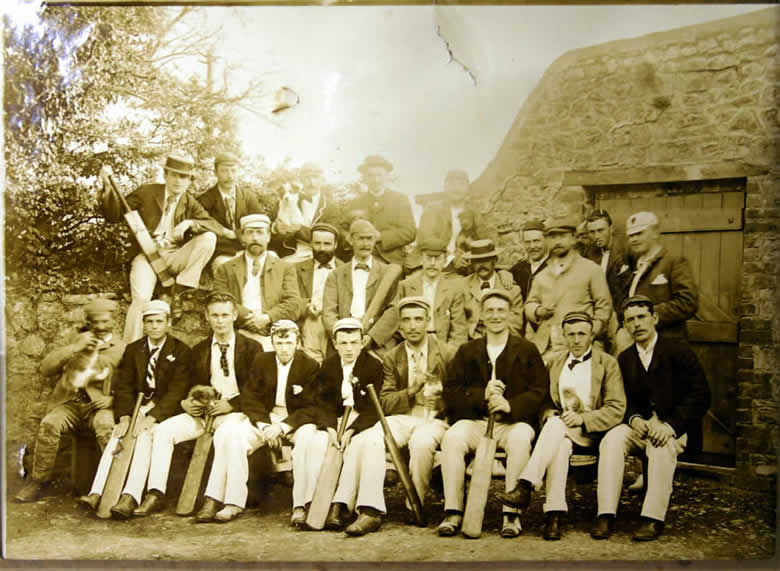 This photograph is of the Glamorgan Hunt Eleven taken in 1927. The only individuals that have been identified are the gentleman centre front row who is R.H.Williams. He was the Master of the Hunt living in Bonvilston House and directly in front of him is his daughter Mary 'Winks' Rodger well known in the village who would have been six years old.