---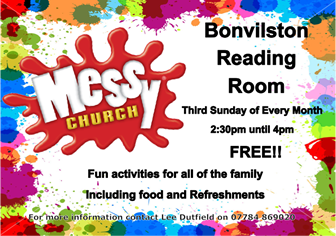 Messy Church
Held at Bonvilston Reading Room on the 3rd Sunday of every month from 2:30pm until 4pm.
For more information contact Lee Dutfield on 07784 869020.
Fun activities for all of the family.
---
What's On
For more regular updates on village activities check out the Bonvilston Facebook page at Bonvilston
Email Newsletter
If you would like to receive email updates you can sign up here
Bonvilston Development
'Villagers Voice'
You will find here the official responses to the petition signed by a number of villagers in reaction to the lack of Community Funding arising from the housing development.
Bonvilston Village Heritage
The exhibition at St Mary's Church is now open by request. To arrange a visit please call 07802 467466