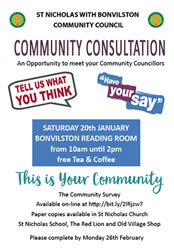 COMMUNITY CONSULTATION
ST NICHOLAS WITH BONVILSTON COMMUNITY COUNCIL
SATURDAY 20th JANUARY at BONVILSTON READING ROOM - 10am until 2pm
Come along and meet your Community Councillors. We'd like to hear what you think of your communities and your ideas for future improvements. With free tea and coffee.
An on-line survey has also been created which can be accessed by clicking here. Alternatively paper copies are available at St Nicholas Church, St Nicholas School, The Red Lion and The Old Village Shop, Bonvilston.
Please give us a few minutes to complete the survey to give us feedback about how you feel about your neighbourhood, the services in the area and your priorities for the future. You have until Monday 26th February to complete the survey.
---
What's On
For more regular updates on village activities check out the Bonvilston Facebook page at Bonvilston
Email Newsletter
If you would like to receive email updates you can sign up here
Bonvilston Development
'Villagers Voice'
You will find here the official responses to the petition signed by a number of villagers in reaction to the lack of Community Funding arising from the housing development.
Bonvilston Village Heritage
The exhibition at St Mary's Church is now open by request. To arrange a visit please call 07802 467466