Summer Programme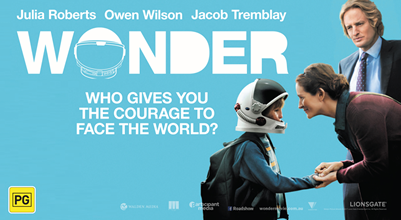 Thursday 10th May - at 3pm and 7:30pm
WONDER (PG) -113 mins Drama/Romance
Based on the New York Times bestseller, WONDER tells the incredibly inspiring and heartwarming story of August Pullman. Born with facial differences that, up until now, have prevented him from going to a mainstream school, Auggie becomes the most unlikely of heroes when he enters the local fifth grade. As his family, his new classmates, and the larger community all struggle to discover their compassion and acceptance, Auggie's extraordinary journey will unite them all and prove you can't blend in when you were born to stand out. Simply put, this is the perfect family film for all ages. Outstanding acting by little Canadian phenom Jacob Tremblay as well as a great supporting cast. Very well written and directed. A must see film.
---
Thursday 14th June - at 3pm and 7:30pm
THE POST (12A) -116 mins Biography/Drama/History
Steven Spielberg directs Meryl Streep and Tom Hanks in The Post, a thrilling drama about the unlikely partnership between The Washington Post's Katharine Graham (Streep), the first female publisher of a major American newspaper, and editor Ben Bradlee (Hanks), as they race to catch up with The New York Times to expose a massive cover-up of government secrets that spanned three decades and four U.S. Presidents. The two must overcome their differences as they risk their careers - and their very freedom - to help bring long-buried truths to light.
The Post is so on the nose for the political moment that at times it almost seems it might have been produced not by Spielberg, but by some high-end marketing firm.
---