Winter Programme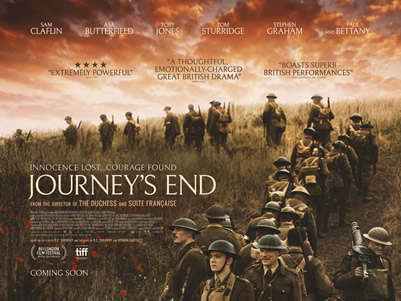 Thursday 8th November - at 7:30pm
JOURNEY'S END (12A) - 107 mins Drama/War
Set in a dugout in Aisne in 1918, it is the story of a group of British officers, led by the mentally disintegrating young officer Stanhope (Sam Claflin), as they await their fate. "A roster of fine performances elevates director Saul Dibb's worthy adaptation of RC Sherriff's classic play about the difficulties and pressures facing soldiers living in the rat-infested trenches during the final throes of the First World War. The main focus is on the conflicted character of alcoholic Captain Stanhope, whose six-day command encompasses a major offensive, but when old school chum Raleigh is drafted into his unit, then routine events become emotionally messier . . . Dibb keeps his camera moving to give dynamism to the inherent staginess, the strained despair is well conveyed and Toby Jones's cook provides welcome world-weary comic relief. But nothing in the slow-burning bleakness shakes it out of the now familiar "War Is Hell" message."
---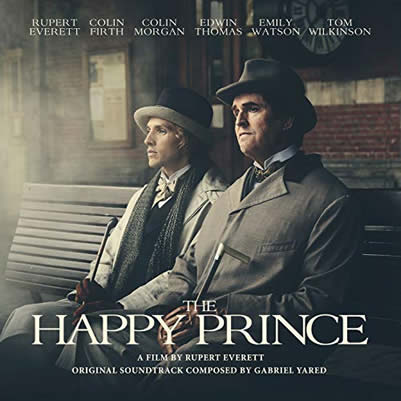 Thursday 13th December - at 7:30pm
THE HAPPY PRINCE (15) - 105 mins Drama/History
Starring Rupert Everett, who also wrote and directed it, this is the story of the last days of Oscar Wilde.  Released from Reading Gaol, he leaves England never to return and wanders around Europe penniless and ill.
"In The Happy Prince Everett not only steps into the shoes of the Victorian writer and raconteur but makes his writing and directing debut. The result is a mixed bag, as while Everett the actor masterfully evokes the mournful mix of decadence and decay of the last years of Wilde, Everett the filmmaker is, like so many before him, too much in love with the brilliant old rogue for his own good."  Eye for Film
"This poignant dramatisation of Wilde's final years in exile is a powerful parable of passion and redemption."  The Guardian
"Who knew that Rupert Everett had it in him? The 58-year-old actor and writer, who made a big splash in the 1980s with Another Country and Dance with a Stranger, and has seemingly teetered on the brink of oblivion ever since (ill-advised pop career, gossipy memoirs, public meltdown on Celebrity Apprentice), has produced an 11th-hour masterpiece in The Happy Prince."  The Times